---
Our students do amazing things every day but it isn't every day that a student organizes a TED activity. In fact, this is the first time! Katelyn, grade 9 at ECWS, organized what she called the "Jesus Encounter."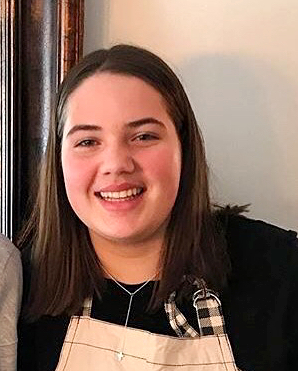 "Throughline Expeditionary Day," or more commonly known as TED, happens about 5 times per year and is a chance for ECWS Junior High students to explore our Biblical Throughlines through various activities organized by the teachers. These are projects and ventures like a tour of Edmonton, art projects, escape rooms, swimming, and woodworking.
Onto Katelyn's heart, God placed the idea of a TED activity that would dive into our personal journies with Him … and from that, the event was born! She worked hard securing and organizing three speakers, a worship band, games, and prayer stations/activities.
"Throughline Expeditionary Days are meant to be a chance where students get an opportunity to explore some of the Biblical Throughlines. I am very proud that Katelyn took this to heart and planned a student-organized faith building day. She showcased Servant Worker, Community Builder, and Idolatry Discerner through her dedicated work to bring her peers into an experience with the Grace found in Christ." – Mr. Wolmarans, Assistant Principal, ECWS
Kicking off the event, Katelyn showed her vulnerability and shared her personal story of rejecting Christ, falling victim to the effects of wanting to fit in with extended family … A story that is probably familiar to many people her age.  As we know though, God never walks away even when we do.  He continued to work into her life and she experienced a revival.  Katelyn's story continued and she shared her new found passion for Christ.  She has a deep perspective into "owning our salvation."  She's energized and excited to build others up and had a goal for the event to change even just one person:
"My goal for today is for just one person to walk away realizing that there is more to being a Christian than morning gatherings and chapels at school … to give you all an opportunity to relight your burning passion for Christ that might have dimmed down a bit … or to be able to understand that God loves and cares for you through everything." – Katelyn
The speakers Katelyn booked gave a fresh and relatable perspective for the students:
Chris Whitelaw spoke about having a joyous life and what it means to have a joyous life in Christ.
Chet Kennedy delivered a message of overcoming battles with Christ and how to cross "rivers" in life.
Rachel, Ricky, and Helena from Reconcile Ministries shared personal stories from working with Reconcile.
The activities/prayer stations that she organized for everyone to participate in represented different biblical themes and linked to scripture. It was a time of private moments amongst students and individually so photos were limited to respect privacy. Here are a few of the stations described in more detail:
Wiped Clean: An Alka-Seltzer tablet placed into a bowl of water will fizzle away just like our guilt and shame when we pray for forgiveness. We are wiped clean because God loves and forgives us! 1 John 1:9
Gods' Plan: Though we might not know God's plans He calls each of us to a remarkable life in Christ through the gifts and talents he gives us. Students wrote their goals based on what they felt was Gods calling. These notes were hung up on string lights and they prayed for God to show them the right path. Phil 3:13-14
The Heart Condition: Constructing a heart shape from clay they observed how it was soft. Do you allow God to shape and correct your heart?
True Reflections: A table filled with hand mirrors showed students how Gods great love is reflected in each of us. We are all fearfully and wonderfully made! They prayed thanks for the amazing creation each one of us is. Psalm 139:14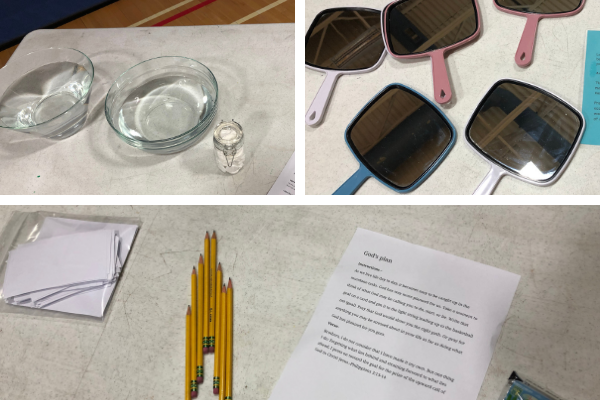 Mr. Wallace oversaw the event and helped facilitate things.  His words sum up all of our thoughts of the event too.
"Katelyn didn't just come up with a great idea for a TED, she put in the work to make the idea a reality. Katelyn showed so much leadership in getting this event organized! The effort and work she put into it showed her heart and desire to provide her fellow students with a different type of worship experience than they usually get at school.  Seeing the students praying, singing, listening, and wrestling with questions together was so amazing, and it wouldn't have happened without her!" – Mr. Wallace, Teacher ECWS.
Thank you to Katelyn who graciously agreed to be featured here!