At Edmonton Christian Schools all families are required to pay an annual Christian Program Fee based on the number of students they have attending our schools.  This fee, collected by the Society Office (ESCE), provides students with Christian programming and school facilities; ECS owns/operates its school buildings and manages the Christian Program independently of EPSB.
The Christian Program Fee Schedule for the 2022/2023 school year can be found here or see below.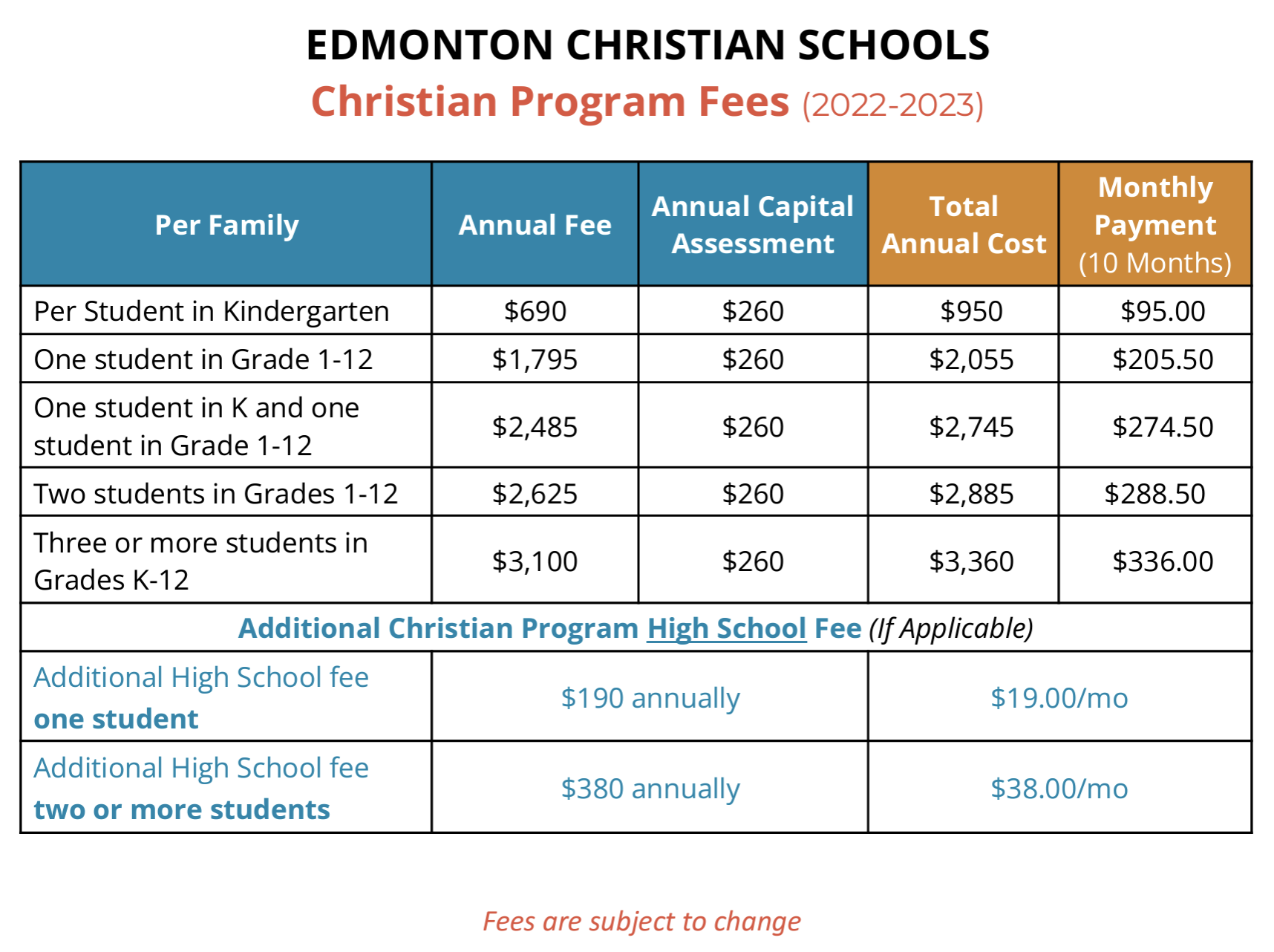 Current families can log into their SEAS account to view their current program fee balance.
Log in to seasedmonton.com using your primary email address on file with the Society Office as your username. If you do not remember your password or if this is your first time logging in please use the "forgot password" link.
Christian Program Fee Payment Options
Automatic Withdrawl
Postdated Cheques

Please mail in or drop off your postdated cheques at the Society Office.
You may date your cheques for any date you require.

Credit Card Payment

You may set up a re-occurring or a one-time credit card payment.
Contact the Society Office to request a credit card authorization form or download one here.
Alternatively, you may call the Society office and provide your card number over the phone.
All credit card payments incur a 3% fee.

In-Person at the Society Office

We can take your payments at the Society Office during business hours. (Monday-Friday, 8:30am-4:00pm)

Credit Card (+3% fee)
Debit Card
Cash
Cheque
The Captial Assessment Fee is listed separately above for full transparency.
The Christian Program Fee does not include School Fees (Course fees, Field Trips Fees, School Supplies, Club Fees, Bus Passes, etc).  School fees are separate from the Christian Program Fee and are set and collected yearly by each individual school.
School Fees: