Like anyone doing this kind of work, Michael Walters would be uncomfortable being called a "hero."  But, c'mon,   he spends  12 hour shifts driving a "Rescue Van."  A  RESCUE  van.  Sounds like hero's work to me.
At Edmonton Christian schools, our learning is guided and held together by 10 Biblical through lines that we think describe the roles that we are invited to play in God's story.  In a December assembly at West School, the focus was on the Servant-Working through line.  This throughline challenges us to set aside self interest and actively work to heal brokenness and bring joy to individuals and to culture.
Mike Walters, who attended Edmonton Christian School for nine years, may not be a hero, but he is a servant-worker.    He believes that his last fifteen months of driving one of the Hope Mission Rescue Vans is God's calling for him here and now.  The 26 year old who said that a YWAM (Youth With A Mission) experience as a young adult was a turning point in his life, has a Police and Security Certificate from Grant McEwan and one day hopes to be a police officer.  Right now however, he says, "God is keeping me here for awhile.  I've learned to follow God's lead."
Mike admits that bringing food, water, clothing, toiletries or just some friendly human contact to people whose life is mostly on the cold streets of Edmonton is challenging work. He sees people in difficult and desperate situations and often has to endure some verbal abuse from those that are not well. Servant-working is challenging,  and no one doing this work in Edmonton is getting wealthy from it!  Mike is very quick to remind us though, that in God's upside-down story, where to gain life you need to lose it,  the rewards are great. "There is no greater joy than when you help somebody who needs your help," he says with clear conviction.  These are the words of a servant-worker, who no doubt, is a hero to those that he serves.
~~~~~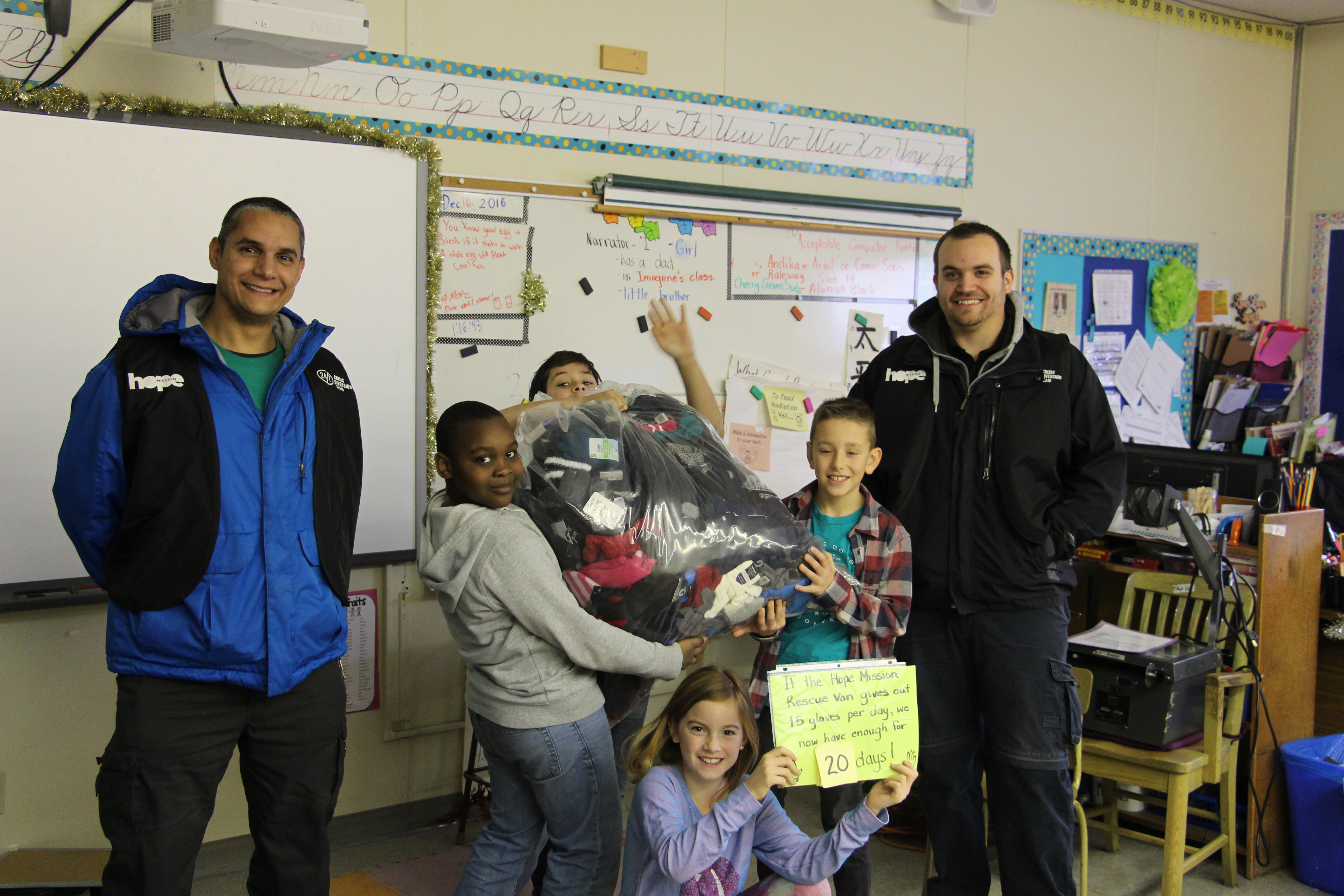 In December, on a -20 celsius day,  Mike visited (Mom) Lori Walter's grade 4 classroom to pick up more than 300 pairs of gloves that the students had collected as part of their study of Alberta.  Grade 4 student Trayke explains it best:  "We did this because we are learning about Alberta and it is cold here in the winter.  We learned that there are people in the cities of Alberta that do not have homes."  He goes on to reflect, "When I brought 4 pairs of gloves I felt happy because it was helping more of the world.  I learned it IS better to give than to receive."
Classmate Asher seems to agree. "Christmas takes so long to come when you are just waiting to get, but when you give, time just flies by," he says with contagious enthusiasm.
"It fills you with joy," adds another classmate, Ben.
And so we learn, with Mike Walters,  who once was that grade 4 student at West, and with current grade 4 students that serving others is good work and it is part of that great rescue story that we celebrated this Christmas season. We are so grateful that it is a story we too can take part in.
by Brian Doornenbal