---
Edmonton Christian High School was recently blessed with a visit from Patrick Anderson.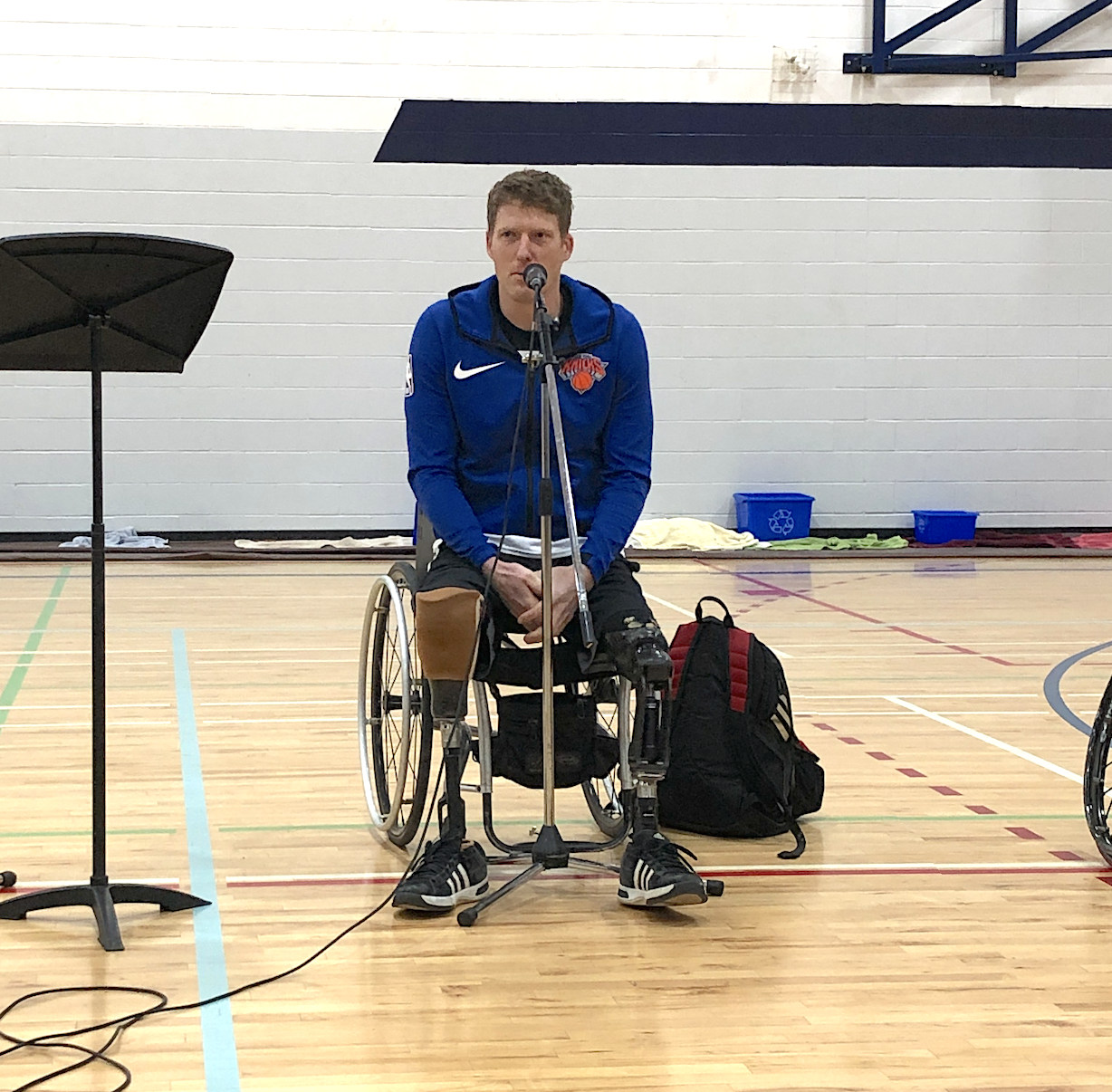 Looking at Patrick, do you assume he's a veteran?  Perhaps he's really struggling in life; even homeless?  Would you thank him for his service or offer him money when you see him on the street? These are, surprisingly, often the first reactions that strangers have when they see him.  Maybe you'd think the same.
The real story … A drunk driver pinned the then nine-year-old Patrick between a house and the car resulting in a below the knee, double amputation.
But would you also assume he is possibly the best wheelchair basketball player in the world and one of the greatest to have ever played the game?!
Just to name a few achievements:
Canadian Junior Men's Gold at World Championships – 1997 and 2001, Olympic Gold – 2000, Olympic Gold  -2004, Olympic Silver – 2008, Olympic Gold – 2012.
Even though Patrick has made a name for himself on the international stage playing wheelchair basketball it was hard not being able to run,  jump and play with his friends as a kid. While wheelchair basketball was exciting and really took off for him from a young age he longed to play hockey with his friends and prayed for a miracle; that his legs would grow back.
"God, if you're waiting for the right time … this is a great time. So how about we just settle this right now and I get my legs back?!"
He waited for an answer and nothing happened. In that silence, there was an answer though. At 12 years old that was the last time he prayed that prayer, the last time he was focused on looking back, on what he lost, and instead looked ahead at what he still had.
---
(Click to enlarge images!)
---
Wheelchair basketball has meant a lot of things to Patrick.
A gift: Coming out of the hospital at age 10 he didn't know what was going to happen.  But he says he has been blessed in a lot of ways over the years through wheelchair basketball. It came at a time in his life when he needed it most.
A test and a challenge: Sometimes sports brings out the best in you but sometimes it can bring out the worst in you. He's not an exception to that rule.  At times he sees joy when he's playing, in the way he plays and competes; enthusiasm and support of teammates, self-discipline, and self-control. But on the other hand, it has at times, brought out anger, pride, and violence.  In sports, your character is on display both on and off the court. God has used the sport to grow his character.
A calling: Patrick speaks of his struggles, struggling sometimes partly because of pride. But in the end, this life is where he was called to be. God uses wheelchair basketball as a vehicle for him to challenge and bless others.
"I play in this world where only disabled players can play. I always wondered what kind of able-bodied athlete I could have been and at times it distracted me from what I had right in front of me."
His challenge for us: Really think about, not what you've lost, but the opportunities you have. It's ok to mourn the things you've lost but moving past them is also important. We have opportunities and grace in our lives to do just that, to move past opportunities we've lost.
---
Life can make you feel like you're not enough. Don't believe it. Evil wants you to believe you're not good enough.
"The thief comes only to steal and kill and destroy." -John 10:10

It's easy to place your identity in your gifts, or what you feel is a lack of gifts. Remember …
"We have different gifts, according to the grace given to each of us." -Romans 12:6

---
---
"Anderson took a brief hiatus from wheelchair basketball following the 2008 Paralympic Games to pursue other interests, including his love for music. Music has always been a big part of his life and it's a passion that he continues to explore to this day alongside his wife Anna with their band The Lay Awakes." – https://www.patanderson.ca